Electrician in Belle Terre, NY 11777
What Makes a Master Electrician in Belle Terre, NY a Master?
Have you ever heard of the term master electrician? If so, you may wonder what makes a Belle Terre, NY electrician a master. Does it mean they can change light fixtures better than any other electrician in Suffolk County? Or can they design the perfect electrical system for your home? Is a master electrician and a qualified electrician the same thing?
Absolute Electrical Service, Inc. is here to tell you what a master electrician is and what it means for you. Below, we'll discuss the differences between a journeyman and a master electrician, if it matters, and who you should call when you need electrical work done. Let Absolute Electrical Service, Inc. guide you through this journey.
Is It Just a Title?
So is "master electrician" just a title you give to a great electrician who can install and maintain electrical wiring? Master isn't just a title you can give to anyone; an electrician has to earn that title. However, they have to do a little more than being good at their job to reach that status.
Journeyman vs. Master Electrician
There are three phases of becoming an electrician in Belle Terre, NY: apprentice, journeyman, and master. First, the electrician will go through apprenticeship programs and receive the proper job training. After reaching enough hours, they can move up to a journeyman. After putting in more hours, they can become a master. Often, the electrician will need to receive certificates for each phase.
So how do journeymen and masters differ? A master electrician is the highest status one could get, so they can start their own business and hire contractors to work underneath them. Since masters have more job training and experience than journeymen, they can do more difficult jobs. For example, they can design an electrical system for a local building and oversee electrical projects.
Does It Matter Who You Choose?
So does it matter if you choose an electrician or a master electrician for your Belle Terre, NY home? It depends on what you need to have done. If you need someone to repair electrical wires or fix circuit breakers, you'll be fine with an electrician.
However, if you need an electrical system designed and installed in your Suffolk County home, you may need to call a master electrician. However, in most cases, you can choose either a journeyman or master electrician for your project.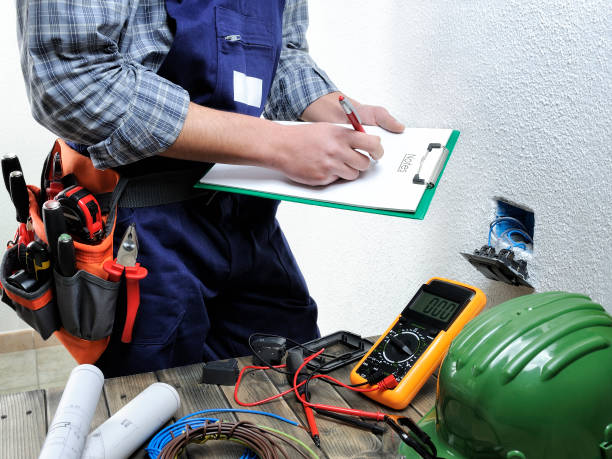 Who To Call
When you need an electrician's work done in your Suffolk County home, you can't call just anyone. You need to find someone who will follow the national electrical code that all states require. As long as you find an electrician with the proper licensing requirements, you can ensure they'll do a good job.
Call Absolute Electrical Service, Inc. in 631-567-1500 when you need to repair electrical components in Belle Terre, NY. We have the experience and the necessary power tools to keep your home safe. Electrical work can be dangerous, so you should always leave it up to the professionals. Call us today to protect your house.
---
Some information about Belle Terre, NY
Belle Terre is a village in the Town of Brookhaven on the North Shore of Long Island in Suffolk County, New York, United States. The population was 792 at the 2010 census.
The peninsula on which the community of Belle Terre is situated has been known as Mt. Misery since the 17th century. Before Belle Terre's modern existence, the area was referred to as Mt. Misery Point. By comparison, the lower portion of the peninsula, which is currently a section of the neighboring village of Port Jefferson, was referred to as Mt. Misery Neck.
Throughout the 1700s and 1800s, the bulk of the peninsula was owned by the Strong family, who had their Oakwood estate in its Mt. Misery Neck section. The first known dwelling in contemporary Belle Terre was a shack constructed by an African-American affectionately known as Uncle Mott in the 1800s. This house was the subject of a painting by local artist William Moore Davis.
In 1902, the Port Jefferson Company purchased the Oakwood estate with the purpose of creating an exclusive waterfront development of fifty houses to rival the communities of Long Island's traditional Gold Coast. The well-connected real-estate developer, Dean Alvord, was chosen as president of Belle Terre's estates, which was incorporated in 1906. The construction of the Belle Terre Club, a grandiose private members club at the center of the community, also occurred in 1906. A pair of stately pergolas were constructed as well, which overlook the waterfront.
Useful links for Belle Terre, NY
Directions from Belle Terre, NY to Absolute Electrical Service, Inc.
---
Here are some electrician-related links: