Electrician in Asharoken, NY 11768
An Electrician vs. An Electrical Technician in Asharoken, NY: What's the Difference?
You've probably heard of a Asharoken, NY electrician before, but have you ever heard of an electrical technician? If you've just come across the two names, you may think they're the same thing. However, there are some differences between the two in what they do, the training necessary, and their licensing requirements.
But what are the differences between an electrician and an electrical technician, and who should you choose if you need electrical components installed or repaired in your home or business? Call Absolute Electrical Service, Inc. to learn all about these two careers that work with your electrical system.
When you need an electrician, call Absolute Electrical Service, Inc.. And to learn more about the differences between a Suffolk County electrician and an electrical technician, keep reading below.
What's an Electrical Technician?
If you need to hire someone in Asharoken, NY to repair electrical systems in your home, calling an electrical technician won't help. An electrical technician works with electrical engineers to design and install an electrical system. Electrical technicians usually work in the office and sometimes in the field. While they don't design the electrical system, they can work with engineers to create the perfect system and point out any potential flaws.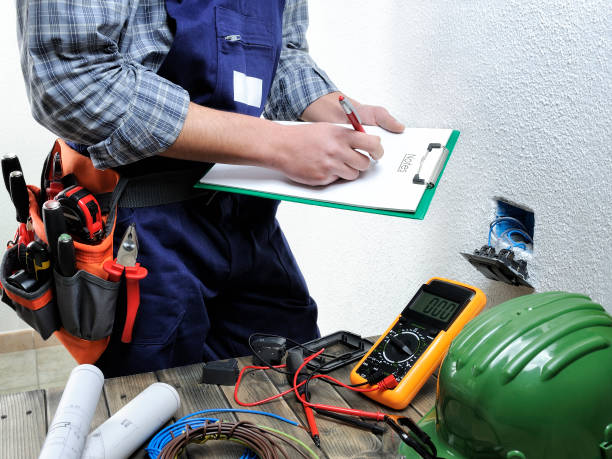 If someone wants to become an electrical technician in Asharoken, NY, they will need either an associate's degree or a certificate. They learn everything through their schooling and job training.
What's an Electrician?
Now, we'll look into what a Suffolk County electrician does. If you have an issue with your circuit breakers or exposed electrical wiring, you should call an electrician. They can come to your residence and help install and maintain your electrical system. Many electricians can work in residential, commercial, and industrial locations.
Electricians typically don't have to go to secondary school, but they have to go through apprenticeship programs to become licensed electricians. They will go through three phases: apprentice, journeyman, and master electrician. They typically need certificates for each level to progress.
Who Should You Hire?
So who should you hire if you need either a Asharoken, NY electrician, or electrical technician? It depends on the work you need to have done. If you work with a commercial building that needs to have the electrical system designed, you should hire an electrical technician.
However, if you need electrical work done on your home or business's local building, call an electrician in Suffolk County. What's most important is you find an electrician that follows the national electrical code that all states require and have had the proper job training.
Now, you know the differences between an electrician and an electrical technician. It's important to remember that you should always call a professional whenever you need an electrician's work done. Never DIY anything with electrical devices, even if it's as simple as changing light fixtures. A qualified electrician has the proper power tools for the job.
When you need to hire an electrician in Asharoken, NY, call Absolute Electrical Service, Inc. at 631-567-1500. We can help with any electrical work you need to have done.
---
Some information about Asharoken, NY
Asharoken is a village in Suffolk County, New York in the United States. The population was 654 at the 2010 census. The ZIP code is 11768.
The Village of Asharoken is named after Chief Asharoken, head of the Matinecocks Native American tribe which inhabited the area prior to English settlements. Chief Asharoken sold the land that is now Asharoken, Eatons Neck, and Northport to European settlers in 1656.
Useful links for Asharoken, NY
Directions from Asharoken, NY to Absolute Electrical Service, Inc.
---
Here are some electrician-related links: